The Leica Gallery Boston is proud to unveil Ahmet Polat: THE MYTH OF MEN from March 1st through April 29th.
RECEPTION  Thursday, March 01, 2018, 6-9pm RSVP
 
ARTIST TALK  Friday, March 02, 5-7pm RSVP
 
LEICA AKADEMIE  WORKSHOP Saturday – Sunday, March 3rd & 4th, 10am-6pm REGISTER
ON VIEW  March 01 – April 29, 2018
Leica Gallery Boston in collaboration with Leica Gallery Istanbul is proud to present, for the first time in North America, THE MYTH OF MEN by Ahmet Polat from March 01 through April 29th 2018. The opening reception is on March 1st, from 6pm to 9pm, followed by an Artist Talk on March 2nd from 5pm to 7pm. Ahmet Polat will also host a Leica Akademie Workshop March 3rd and 4th, titled  Reframing the Frame: Reflective Visual Storytelling, limited to 12 participants.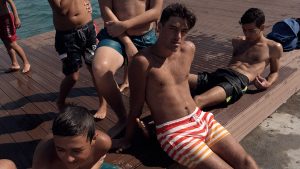 This exhibition is part of an ongoing theatre, film and photographic collaboration between Ahmet Polat, Lucas de Man (theatre,storyteller) and Rashif EL Kaoui (radio, actor). "The Myth of Men" exhibition premiered at Leica Gallery Istanbul during the Istanbul Biennial in 2017, and simultaneously began its theatre production at Zuidplein Theatre in Rotterdam, currently on tour throughout the Netherlands and Belgium.
The project was initiated in the Netherlands and continued in Turkey, with interviews and photo- and film shoots. "The Myth of Men" was shot through the implementation of innovative production methods, using Leica cinematic lenses, enabling Polat to output stunning moving images and stills. The visual representation and narrative of Polat's project has the characteristics of an experimental documentary, portraying people from different geographies bearing different identities, while still accessible and evocative of its theme. In its iteration at Leica Gallery Boston, Polat presents a video and photographic installation revealing the multiple layers of manhood presented in The Myth of Men. Polat immerses himself in multiple situations and happenings and takes on a personal approach beginning from the character's social status and identity, down to their relationship with city, ways of living, traditions, and individual perspectives.
"The topic of "men" is not the first myth Ahmet Polat has aimed to shake up. His dual identity allows for him to be suspicious of accepted truths yet gives him a birds eye view of the communities he is in. Polat experiences and anticipates the outcomes of injustices, and instead of focusing on the results of preconceived notions, he looks beyond and into their historical backgrounds. His method is scientific, his language unifying, and his discourse engaging to all minds. He implemented this approach when questioning the Turkish identity, Dutch society, and African descendants in Turkey. In "The Myth of Men" his research is directed towards a global audience. "Men" is a broader concept that uneases all groups and genders. We will have to open up and face our true beliefs about what a man is and what a woman is in 2018. This will hopefully help create better listeners, happier relationships, more conscious parents, a fresh look on patriarchy and it's spoken and physical violence. Leica Gallery İstanbul is proud to have hosted the premiere exhibition of "The Myth of Men" and to have organized various discussion groups on this topic during the course of the show "
Yasemin Elci, Curator and Gallery Manager at Leica Gallery Istanbul
Ahmet Polat is a photographer whose work is connected to his habit of observation and directing. Motivated to capture the unexpected, the quality of his work has earned the deserved respect of serious critique. Since graduating from the St Joost Academy in Holland, Ahmet has won several awards and grants like the ICP Infinity Award 2006, Laureate Photographer of the Dutch Nation 2015 and he has exhibited, lectured and published prolifically, ranking Bozarts in Brussels, the Istanbul Modern, Rijksmuseum, FOAM and Stedelijk Amsterdam, the NY Times, French and Turkish Vogue as some of the prestiges places. Born of a Dutch mother and Turkish father, Ahmet integrates his bi-cultural perspective in all his work.
Visit the Leica Gallery Boston website for more information and past exhibits.